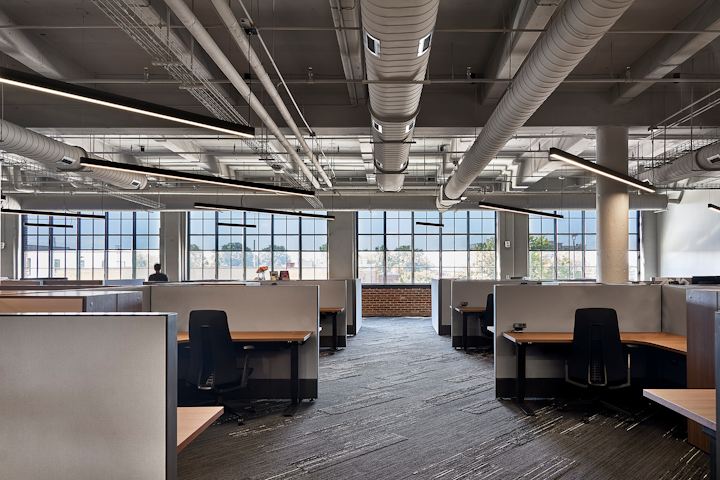 Memphis architectural design firm LRK worked with A-Light luminaires to enhance the natural light coming into the new Orion Federal Credit Union headquarters in a historic building that incorporates the original industrial-looking concrete and exposed ductwork alongside modern aesthetics and layered lighting. (Photo credits: Images by McGinn Photography for A-Light.)
A-Light, an Acuity Brand, has announced a solid-state lighting (SSL) project in Memphis, TN where a unique historic building afforded lighting designers the chance to focus their efforts on aesthetics given abundant natural light that floods the space. Much of the artificial lighting is focused on grazing walls and wall art and adding to the ambient layer, with task lighting only directly located over interior work spaces. Orion Federal Credit Union moved its headquarters into what once was the home of a famous bread baker and rehabilitated the natural concrete surfaces, minimally changing the internal space.
Architect LRK spearheaded the interior design with engineering assistance from HNA Engineering. Orion had chosen the office because of its location in the iconic building in a historic neighborhood undergoing a reinvention through commercial and residential growth. The credit union grasped the opportunity to be an anchor in the neighborhood.
The building had what
…
Read More